Just a few days before the new year I was talking with a fellow fly fisher and the subject of my 2013 bucket list came up. I actually could only remember a few of the things that were on it so I decided to revisit it and see how I did…
Fish a mouse pattern at night
Well, I did briefly fish a mouse pattern at night in the Driftless in June. It was very half-hearted as the water was extremely high, and there was a young bull in the field with me that I didn't trust!  So I don't think I gave it a full chance. We'll keep this one for 2014.
Catch a monster trout on a hex pattern
I seem to have been unspecific on this one…I DID catch a monster trout on a hex pattern, but it was a steelhead on a nymph pattern.  I'm pretty sure I was seeking a large brookie or brown on a dry fly. I did return to a certain river where I thought this might work but again was skunked and didn't even see a fish rise.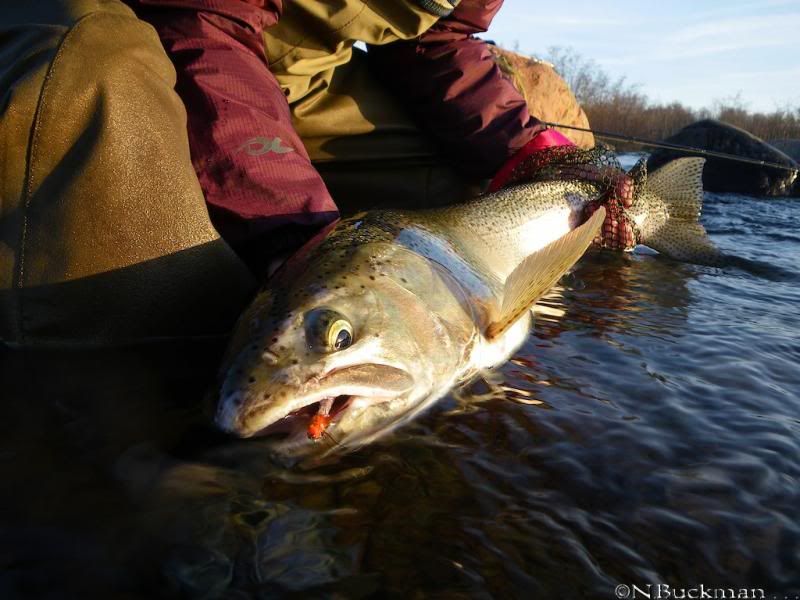 Oh I certainly accomplished this one! And what a beauty she was!  This is the above mentioned trout on a hex nymph.  I hooked and brought in another before this one, but it self-released at my feet. This fish made my week for sure.
Land an Atlantic on the St. Mary's Rapids
I can't say that I even fished for Atlantics in 2013. Just wasn't in the cards. Maybe this year.
Do a multi-day/night kayak river trip somewhere in the U.P.
Not exactly accomplished but we did do a multi-day camping trip for pike/musky. More camping planned for 2014 for sure!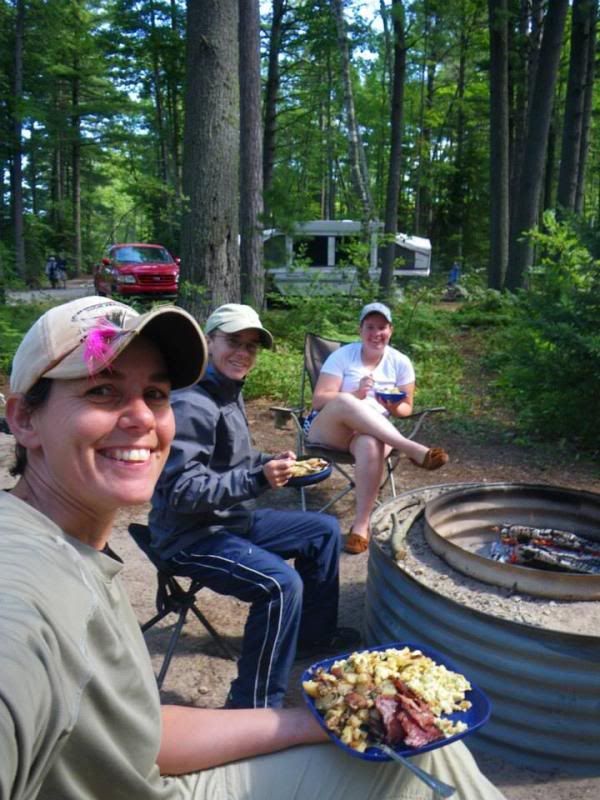 Fish in every town that I have to go to for a work conference
This was hampered a little by the fact that I did not have a job for 5 months. On a positive note, my new job covers some new territory with some fantastic rivers!
Explore the rivers where I used to live in the Western U.P.
Although I didn't get to fish in the WUP in 2013, we did get to make one trip over that way in the early spring and ended up passing the fly fishing bug onto my former fishing buddy. She caught her first fish on a fly later in the summer. Definite plans to return west this year and fish together.
Fish at least twice a week even if it means fishing on my client's property
Again, hampered by lack of employment. I did fish on a previous client's property in late spring which was fun…and ticky…   Unemployment did allow me the time to fish more, but not necessarily the means to buy gas to travel places. I spent a considerable amount of time on a nearby small stream, learning it's ebbs and flows, and again passing the fly bug on to a young person.  Some weeks probably more than twice, sometimes less. It was nice to be free at any and all times of the day/week to do so. I will miss that.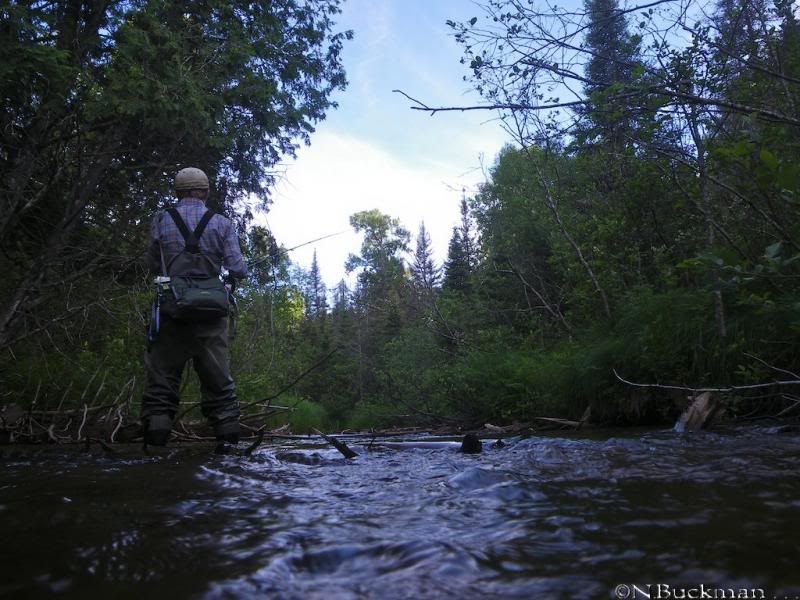 Fish the Old Woman River in Ontario
Never made it to the Old Woman, but did spend a day wetting a line in an Ontario River..to no avail. Fun adventure and nice to see new, wild territory.
Attend the WI Women's Fly Fishing Clinic and fish the Driftless Area
Ahhh, the big one. Yes, I definitely accomplished this. We spent about a week in the Driftless, both helping with the clinic as well as fishing.  What an adventure.  EPIC storms every day/night…mangled tents…flooding rivers…enthusiastic women…and AMAZING FISH.  I have the week in 2014 already marked off on my work calendar. What a fascinating place.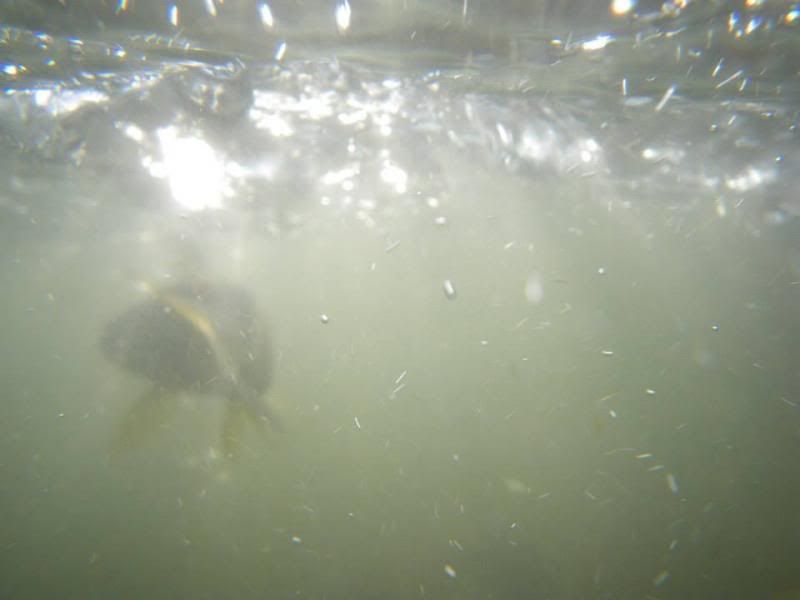 Other 2013 accomplishments:
First pike and musky on the fly! I poo-pooed this at first, and my first experience was less than ideal- cold, 25+mph winds, rain, oh and serious head-spinning issues from being on a boat. But we did see several fish on that inaugural trip and returned several more times throughout the season. On my last trip in October I landed my first musky. Exhilarating!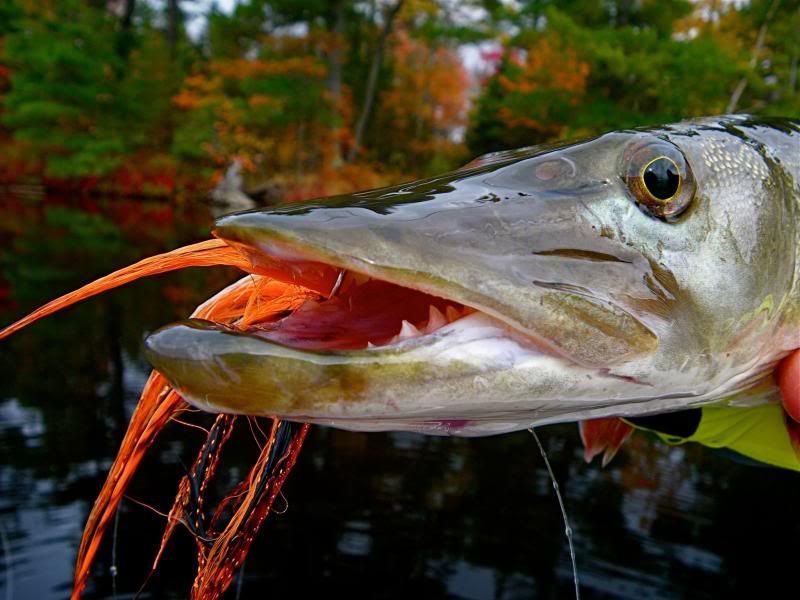 We successfully put on two fly fishing clinics for women. Our partnership in life seems to make a pretty good partnership in teaching. I have my strengths and Nome has hers and it all works out in the end. Looking forward to more of this in 2014.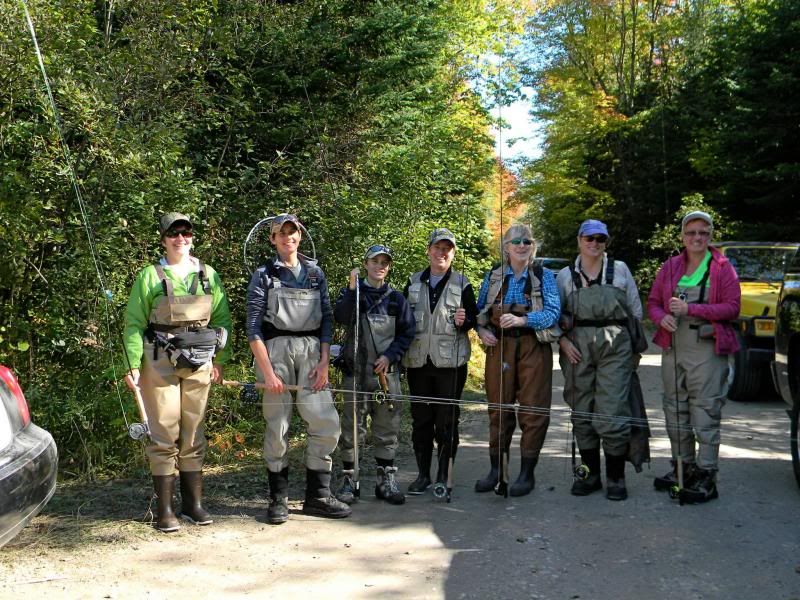 We also planted the fly fishing seed in a few new ladies. This is the single best way to ensure availability of fishing buddies!
Goals for 2014:
Multi-day camping and fishing in the Porcupine Mountains
Explore rivers in each of my new work counties..as often as possible
Fish with my Western U.P friend
Fish more, period