A few weeks ago we had a stunning January thaw and it was way too beautiful out to not wet a line, partly sunny and well above freezing.  Earlier that week I finally located my beat up winter steelhead wading boots which I had not used in a few years.  After the move I was not sure where they had gotten to.  These Korkers boots are larger and have ample room for bulky wool socks, keeping my toes nice and toasty.
With the tailgate down and assembling all my gear, I pulled my tattered boots to hand, and gave them a reminiscent pause to relive fishing with friends annually in December on the Salmon River, NY.  Anchor ice, guide icing, sheets of ice knocking you off balance as they drift down river and big beautiful steelhead.  We had some amazing days with lots of smiles as well as some memories that did not make me smile at that time, but I was definitely smiling now thinking about the day I got to the river at 5am only to realize I left the boots back at the hotel and it took quite a feat to drive to the river in the 3 feet of unplowed lake effect snow that dropped overnight.  Luckily my fishing buddy was uber kind and we drove right back to get them.  Ah, yes… good times!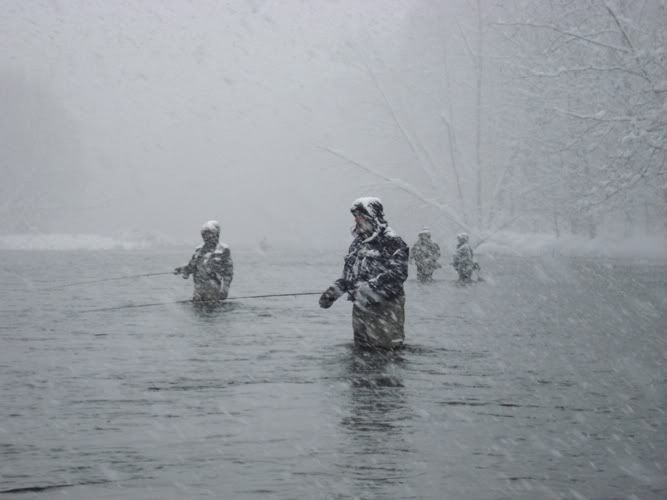 Waders on, I open the laces on my boots to slip them on and I notice something inside the boots.  Socks, but they are not my socks.  I pulled the socks out and stretched them out on the tailgate.  It dawned on my who's they were and exactly the last time these boots were used.  A couple years ago I had a young friend named Toby visit who is an avid fly fisher.  Our fishing friendship was brief as he ended up moving to the other side of the country, but we were able to squeeze in quite a bit of fishing before he left. That week I taught him how to palm a reel when getting into a decent fish and the look of pure pleasure on his face he shot me over his shoulder while playing a nice brookie will always be etched in my mind forever.  His words after releasing a plump 18″ male brookie was: "Again".
This is the first time I'll be using these boots here in Sault Ste Marie, Ontario on the St Mary's Rapids.  With the fishing goddesses smiling on me I was able to add new memories to these boots.  I can now add this beautiful Atlantic Salmon which was my only fish for the day and my first fish of 2013. This fish fell for a hex wiggle nymph.
Tight lines!