September 6th – Upon I arrival hit the Ogunquit river with an hour of daylight left on an incoming tide. Had few hits and landed two wee ones…… Silver with a bit o Grey Bucktail

So cute!
7th – 5am – worked a jetty close to the O mouth, half way into an incoming tide…..No pics (forgot camera) but landed a full house of mid 20's Stripers – missed a number by not strip-setting, but had a blast…… Some blues chased the stripers out and I had laughing fits of fun fighting the demons. Good size too! I reached in to tail my first, and (I'm not making this up) he launched for my hand. Well if you are going to be that way I'll use the grippers on you and a long nosed pliers to get the hook out. After about six blues, they went away, and the tide chased me in to shore….. Silver with a bit o grey, Silver with a bit o brown EP For fun I tied up a 1/0 splittail and flung it at the blues.  I had a few strikes but no takes until the last cast, and he chewed it off!
7th – Noon – sprained my ankle 😥  – walked back, wrapped it and went out again that evening to the same jetty – nada…..I did see some fish working the rocks with dorsal fins that would break water every now and again, undulating back and forth on the water surface to help propel the fish forward.  They tried to eat one of my EP's, but their mouths was too small to inhale the fly – these fish had football-shaped heads…. When I got back to the room I took a look and the ankle.   It was swollen and the bruising was setting in……
8th – No fishing 🙁 – tried the O river but the ankle was throbbing – took a tour of Kennebunkport, Mousam & Kennebunk rivers……
9th – No fishing 🙁 – saw schools of blues & stripers busting all over the place – wishing I had a dock to fish from! Ankle was starting to feel better, and after seeing all the feeding fish I was itching to catch again!
10th – 7am – On the rocks incoming – at several locales I was able to land a ridiculous number of stripers…..It was awesome to see them sitting on shelves watching my fly flutter by and nail it on the way down…… size14 to mid 20's…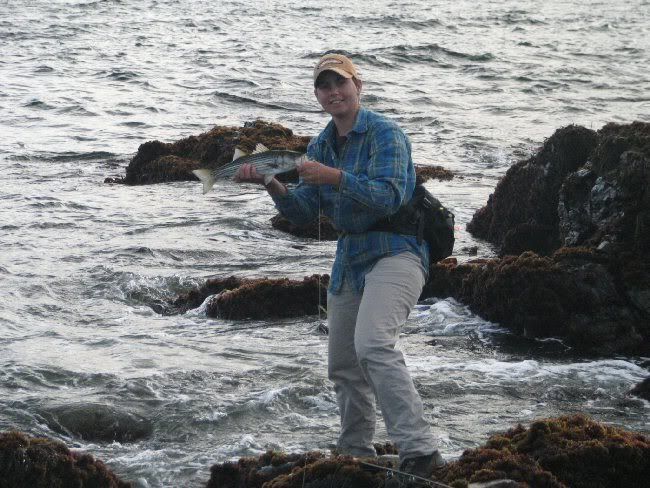 Got Wet???

Next one will get me!

Windy!

Enjoyed great weather and phenomenal sunsets
I had a 15+ pounder on at one point, but the waves were starting to get much larger and chased me up the ledge. It took awhile just to find out what the heck it was since all it did was dive down into the deep and abrade my line against the ledges……. It managed to get into my backing without any trouble – my prob was I don't think I had enough backing!  It was all up to the arbor knot tied around my reel! Hail Mary full of grace let me see this one! It held, and I tried to time him to the surface to let the wave land him for me, but he was getting knocked about and the swells were just too fierce so I let the line slack so we could meet again.
Silver w/ grey and silver w/ brown EP….
11th – 4am at low tide swinging – swells are huge and decided to hit the O river – landed this beauty and a few friends on the all black no flash…..Keep my ears alert for the sound of feeding fish…..heard none in the dark.
By 7am I saw a number of large schools of bait fish moving upriver and sure nuf, some stripers started to bust 'em, and I was on the wrong side of the river! I hightailed it to a crossing and tied on a silver side and was having fun anticipating the jumping bait's direction…. I would have tied on a surface popper, but the bait was much smaller than the popper…..
Wow, now I know what they mean when you catch a striper in shallow water, they run like mad zooming in all directions……I managed 15 of them before they cooled off.
Later in the day took a tour of York harbor, river & beach – heard someone the day before landed a huge striper on the outgoing at the junction of the outlet of a backwater salt pond and Y river. Interesting mouth this river has.
12th last day – Swells were huge – tried O river one last time – nothing, far fewer bait fish schools, ended up with nada. Sat and watched the rollers.
I had the best time! EP and Bucktail flies were used most of the time.  One thing about EP flies – if you leave them long-haired they tie themselves in knots around the shank every three casts 🙄
Tight Lines 😀