Went kayak fly fishing on the lake yesterday afternoon to dusk – great place to yak fish – no motor boats to deal with and not too many people for a hot sunny day. Nice onshore breeze to keep all biting bugs at bay.
Located the campsite and had a bite to eat before launching into the lake around 3pm
The air was refreshing, water was a little choppy which told me get down and sparkly! Intermediate lines and spangle rootbeer woolly buggers were the hit of the day. My fishing yak pal and I used the same fly most of the day.  It was working so why switch?
Just as we launched I caught a nice rainbow – guess I picked the right fly. Cut across the center of the lake to the opposite side and let the onshore wind drift us back. Between us we managed a bunch of chain pickerel and yellow sunnies.
One chain pickerel was a nice size. It tried to bite me many times as I removed the hook. Of course he might have been in a bad mood because I had to drag it to my yak pal who had a fishing emergency – big bow on the line and caugh in the weeds.  The bow got away 🙁
Another pickerel jumped clear of my yak bow 😯 for a dragon fly!
We followed the entire lake edge back to camp and had a bit more to eat and went out for the last hour and a half when we caugh a bunch of exceptionally nice bows.
I highly recommend this lake to yak or tube fish – lots of fun!

Gold Shiner

Sunset rainbow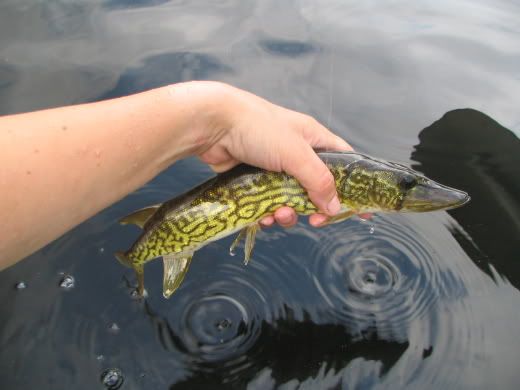 Chain Pickerel

Nice action shot – JAWS~~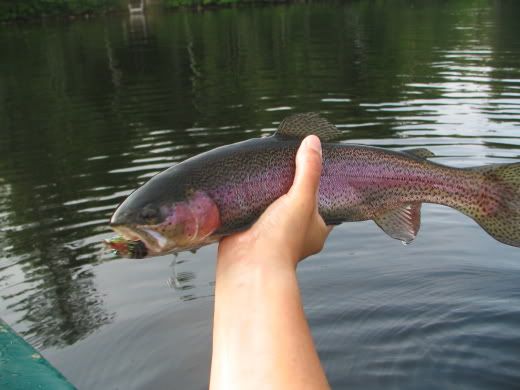 And the catch of the day!!!!!! The fish was a half inch longer, but not much wider than that fly!