The bamboo bug bit me early in my fishing career. Having been a fly fisherman for just over a year now, I found myself drawn to the idea of fixing up an old production style bamboo fishing rod. A visit to ebay taught me that quite a few others have the same idea. After a few days of bidding and battling for a bargain, I was able to find a decent rod to start with.
Unfortunately, I didn't take pictures of the rod in its dilapidated state, but you'll have to believe me when I say that it was rough. The cork was falling off, the thread wrapped around the guides was crumbling, but the bamboo itself was in OK shape. I removed the hardware, and removed the varnish with light sanding, being careful not to gouge the bamboo, and not to disturb the "power bands" that give the boo its great feel.
In the photo below, you can see my devoted helper modeling with the base section of the rod in its stripped down form. I didn't remove the ferrules, instead, I opted to give them a cleaning and light sanding.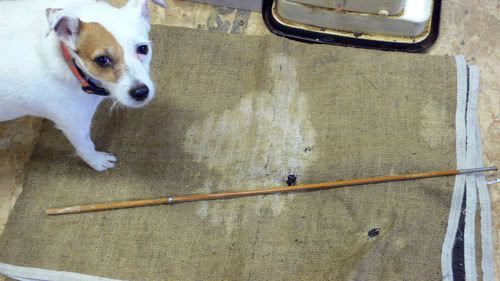 When it came to a grip, I opted to build my own. I ordered a package of cork rings, made a form on which I was able to stack the cork and glue it together, ream the middle, and slide the rough product right onto the rod.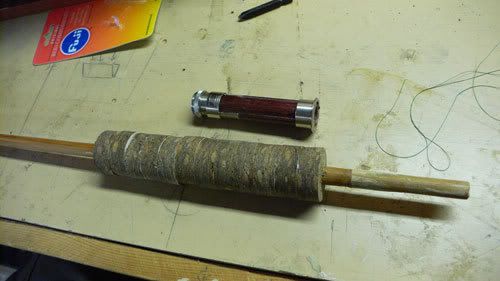 Once I used epoxy to hold the cork in place, I took the end of the rod (where the reel seat eventually went), and put it right into the chuck of a power drill. Using some heat resistant (very important) gloves and some sand paper, I powered up the drill and shaped the cork into the product you see below. I started with 120 grit paper and worked my way to a finer paper, finishing with 2000 grit.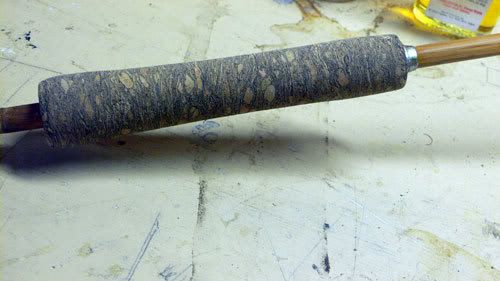 Next, it was time to add the reel seat. It was important to line up the seat with the guides on the butt section. I used artist's masking tape, which is really thin, to mark the location of the seat and the guides.
Since this was my first effort, I didn't have some of the tools that make this kind of project much easier. Instead, I fashioned a bench to turn the rod while replacing the thread over the guides. Again, once I determined the location of the guides, I used very thin masking tape to secure the guide before wrapping the other foot with thread. Obviously, they were double footed guides. I used Gudebrod thread, sent it through a thread tensioner and just took my time with wrapping. Once the thread was wrapped, I treated it with thread preserver, and applied Gudebrod's rod finish.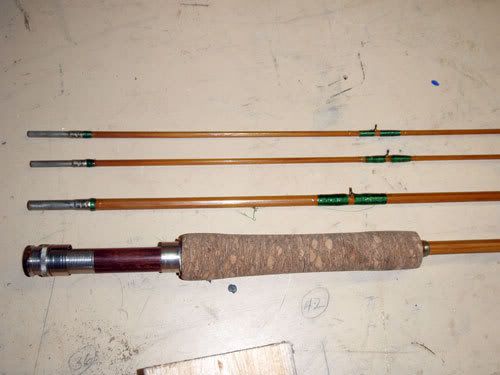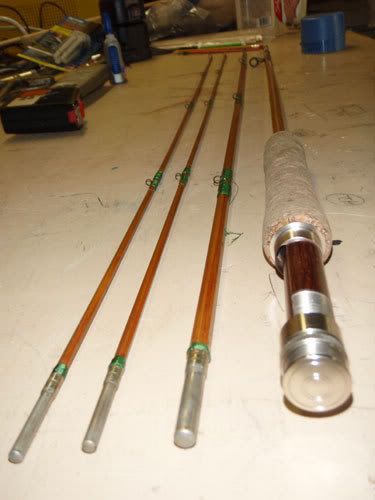 For anyone who is a bit handy, and has the interest in restoring a piece of fishing history, try a project like this.